Raspberry Pi 5 and OSMC support changes
Today, Raspberry Pi announced the release of Raspberry Pi 5, the latest iteration of their small board computer.
The new Raspberry Pi features a faster processor, faster RAM and improved GPU as well as a number of other improvements.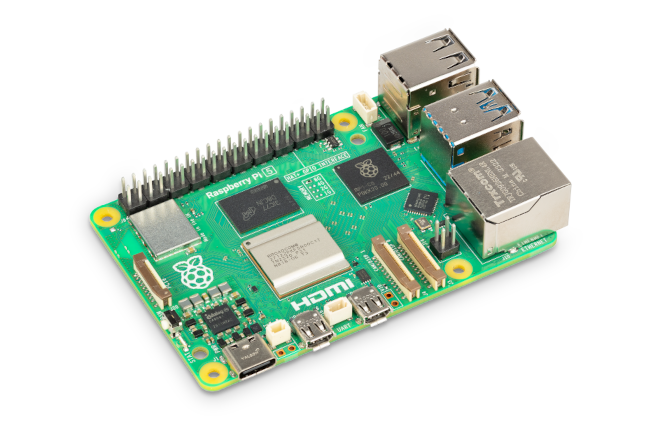 From a multimedia and OSMC perspective, not much has changed. In terms of playback, we don't gain anything in hardware on Raspberry Pi 5. Pi 5 can still support HEVC decode at 60fps as it does on Raspberry Pi 4, but Raspberry Pi 5 no longer offers accelerated H264 decode.
However, software decode should be possible for other formats at 1080p. This has the potential to generate a fair bit of heat however, so an active cooling solution may be needed. Raspberry Pi sell an official heatsink and fan kit that is compatible with the official case.
OSMC are grateful to have received an advance unit some time ago from Raspberry Pi. We started work on bringing up the new Raspberry Pi immediately. There is not a significant amount of work needed to bring up this device, so we anticipate having a compatible release shortly. We updated the target installer to handle newer kernels (6.1 is needed for Pi 5); have added support for Raspberry Pi 5's new GPU to our MESA packages and now only need to produce an updated kernel with Pi 5 support.
As a result, we will soon move Raspberry Pi users to the 6.1 kernel and will make a test thread available when this occurs. Raspberry Pi 4 users will be able to upgrade to a Raspberry Pi 5 by simply ensuring their OSMC installation is fully up to date and then migrating the SD card.
There will however be some significant changes to Raspberry Pi support in the near future. We have not yet updated OSMC's Debian release to Debian 12 (Bookworm) yet. When we do so, we will be changing to a complete 64-bit environment (both userland and kernel).
As a result, we'll be dropping support for Raspberry Pi 2 which does not support this. We then plan to have a single Raspberry Pi image for all remaining supported Raspberry Pi models. As a result of this architectural change, it will be necessary to reinstall OSMC when updating to the new version when we release it. Currently we do not have a firm schedule of when this will occur as we are also mindful of getting Pi 5 support out first and also tracking Kodi v21 which is starting to mature.