Saying goodbye to Apple TV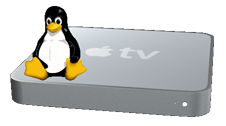 This blog post is written by Sam Nazarko
For almost ten years, we've been supporting the 1st generation AppleTV. It's where it all began, before OSMC was called OSMC, and before Raspbmc.
In 2009, after purchasing an Apple TV I found the device to be rather limiting. Even installing XBMC on the device didn't fully overcome some playback limitations.
At the end of 2009, Scott Davilla, a former XBMC developer was working on CrystalHD support. This allowed you to replace the internal WiFi adapter with a PCI-E based HD video decoder which unlocked 1080p playback.
However -- even with this device installed, the results on Apple TV's official operating system (Frontrow) were poor. Apple stopped updating the original Apple TV after 18 months; and that's where we picked off from. I knew we could do better.
Crystalbuntu was a born: a Linux based distribution with improved CrystalHD and system performance. In 2012, Crystalbuntu 2.0 was launched, and finally in late 2015, we released OSMC for the original Apple TV.
Sadly, after almost eight years, we are ending support for Apple TV. New versions of Kodi now require more resources; and it is no longer possible to achieve good playback performance with these versions. This is especially sad for me as the Apple TV is where it all began.
I wanted to thank everyone who has used Crystalbuntu or OSMC on their Apple TV. It doesn't matter if you don't use this software anymore or you've moved on to something else. The support and encouragement, particularly in my younger years gave me the confidence to later develop what would become OSMC and make it what it is today.
Downloads of all OSMC versions will remain available for the foreseeable future on the Downloads page, but monthly updates will no longer be made available for this device.
We've noticed that some people are still buying second hand Apple TVs and purchasing CrystalHD cards to install inside them. The price of the card is comparible to the Raspberry Pi which will provide a better low cost media center experience. For those that would like to support OSMC's future work, and want to retain some features such as optical audio out, you may consider the official OSMC device Vero 4K.
Thank you once again for all of the users, feedback and support over the years.
Sam